Posted on May 23, 2023 in Shopping.
Approach® S70 the new GPS golf watches by Garmin®
Garmin® today announces the launch of the Approach® S70 series, 2 new flagship models of GPS connected watches designed for golf. The Approach S70 series is for all golfers of all skill levels, on and off the course.
These watches are available in two sizes and are equipped with an ultra-bright AMOLED display that makes it easy to read the data even in direct sunlight. They are equipped with training functions, tools dedicated to golf courses and detailed data on more than 43 golf courses around the world.
The improved virtual caddy displays the shot dispersion area and suggests strategies based on various factors, such as historical swing data, altitude, wind speed and direction, and more1. Both of these models also have the improved PlaysLike Distance feature with an all-new built-in barometer that gauges distance to the hole based on wind, temperature, and atmospheric pressure. Golfers will be able to enjoy multiple rounds without having to charge their watch, thanks to the Approach S70 series' long-lasting battery. These watches have a battery life of up to 16 days in smartwatch mode and up to 20 hours in GPS mode, which is essential for a watch with an AMOLED display.
"The Approach S70 series was designed for golfers who want the tools they need to improve their game, while also benefiting from health and activity tracking functions, as well as connected functions to manage their daily life off the course. golf. They can now choose between two watch sizes without compromising functionality. – Dan Bartel, vice president of international sales at Garmin.
Tools specially designed for golfers
From beginners to experts, golfers of all skill levels will enjoy the features of the Approach S70 series, including:
Over 43 golf course maps, preloaded in color. They present the detailed characteristics of the courses and allow you to zoom in to obtain a panoramic view and thus accurately assess the distances to the green. An improved virtual caddy offering shot scatter areas for better suggestion of clubs to use. Improved PlaysLike Distance estimation to predict how a shot should be played, depending on uphill or downhill slope, wind, temperature and atmospheric pressure. A Multi-GNSS and Multi-band geolocation system (only 000mm) for better position accuracy on the route.
Green contour data2 for better reading of the terrain according to the direction and inclination of the green (function available by subscription to the Garmin Golf™ application (from €10,99/month). Tracking AutoShot course map that allows the smartwatch to be paired with Approach CT10 club sensors for better automatic tracking of the game, including putts and chips The score tracking card to follow your progress on the course, access statistics and calculate handicaps from the Garmin Golf app.
Innovative features to improve performance
Wearing the new Approach S70 series on the wrist, golfers can build muscle and improve their fitness using preloaded activity profiles like strength training, HIIT, yoga, running, and more. With the full suite of Garmin health and tracking features, golfers have all the tools they need to gain a better understanding of their fitness, helping them prevent injury and improve their performance on the course.
Tracking and health features include wrist-based heart rate and heart rate variability, Body Battery™ energy monitor, advanced sleep tracking, and other health tracking features3. The Approach S70 series is also intended to help golfers maintain their fitness through personalized training plans available on Garmin Coach. With over 1 exercises offered by the Garmin Connect™ app, players can create their own training program. They can gauge their physical age against their actual age based on how their body responds to workouts.
Sophisticated style for all occasions
Designed to be worn on the golf course but also in everyday life, the Approach S70 connected watches combine a thin and elegant design with high quality materials such as a ceramic bezel and an AMOLED screen of 1,2 or 1,4 .XNUMX inch protected by scratch resistant glass.
Easy-to-use connected functions
The Approach S70 series is equipped with many connected functions such as:
Smart notifications: to receive alerts, SMS, e-mails and more directly on your wrist when the watch is connected to a compatible smartphone. The Garmin Pay™4 contactless payment function: to pay more quickly at the checkout (provided that Garmin Pay is accepted by the bank).
Built-in music: By pairing their device with wireless headphones, golfers can listen to music or podcasts downloaded from Spotify, Amazon Music or Deezer. App integration with Connect IQ™: to download third-party apps and customize watch wallpapers by connecting it to a compatible smartphone.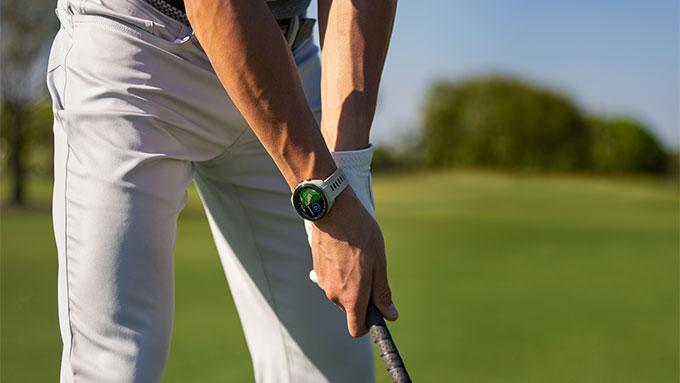 Available now, the Approach S70 series has an MSRP of €699,99.
To know more : click here
To read our latest article on the subject: click here


Comments