Posted on March 9, 2020 in Wellness, Spa and thalassotherapy.
Les Corallines, a high-end experience at La Grande-Motte
Just five minutes from La Grande-Motte golf course, with its feet in the Mediterranean, the Thalasso & Spa les Corallines hotel is the ideal place to relax after your 18 holes.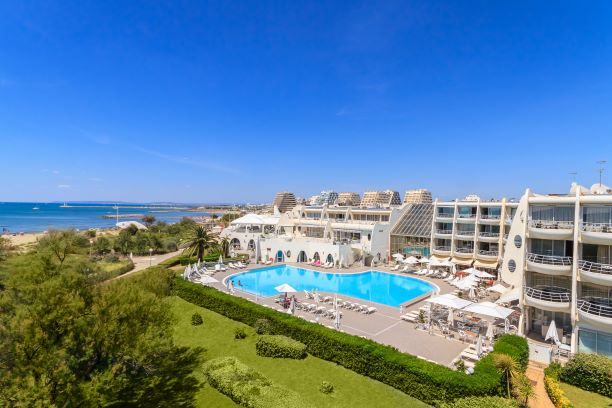 It is a modern 4 *, bathed in the sun of the little Camargue and entirely dedicated to your well-being. From your first steps at reception, the 4 * hotel les Corallines offers an exceptional panorama of the Mediterranean thanks to large bay windows facing south. A 400 m outdoor swimming pool2 and a sandy beach add to the picture.
Besides its 39 rooms of 35 m2 (including 3 suites of 60 m2), with a refined and contemporary style, the establishment has the latest facilities and offers a wide range of thalassotherapy treatments. A haven of relaxation that is almost an oasis for exhausted golfers after four hours of walking at the Grande-Motte course, less than 3 km away.
At Les Corallines, everything is planned to make you forget the least of your double bogeys: marine course, whirlpool bath with seaweed jelly, pressotherapy, Wellspa hydrojet massage, refrigeration therapy, seaweed wrap, exfoliation with oils and flower petals under affusions, underwater shower and even, since this year, janzu (individual aquatic relaxation session immersed in a heated seawater pool, accompanied by a specialist practitioner) ...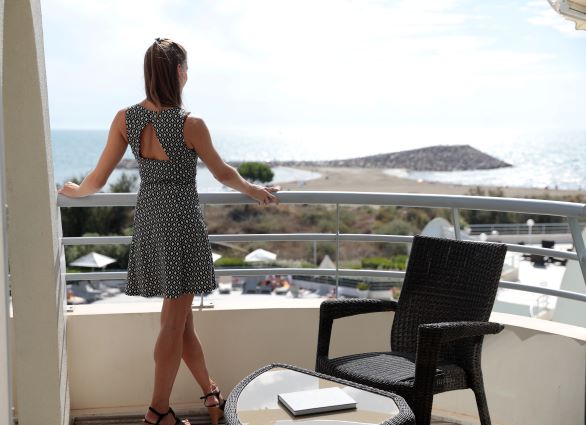 A fitness area of ​​almost 1000 m²
The facial treatment provided by Sophie, based on Phytomer products, is an enchanted cruise, scented with lavender. We retouch the earth after having been applied an algae mask, a hydrating serum and a city day cream. The scrub from the smiling Rachel will sharpen your olfactory senses, in addition to luster your skin with black soap. Between two passages in the hammam and in the experience shower - where cold jets of eucalyptus and menthol alternate with lukewarm jets of monoi - aromas of olive and cinnamon hover during your treatment. Many cures are also offered, over one or more days, such as the Ressource Marine cure, specifically designed to alleviate ailments such as osteoarthritis, low back pain, sciatica thanks to the active components of various seawater treatments.
There is something here for all tastes and all ages, with a fitness area of ​​almost 1000 m2 spread over three levels. The marine spa houses a seawater swimming pool heated to 32 ° C, fully bathed in daylight. There is also a jacuzzi, massage benches, aquabikes, a phlebological course, a swimming lane against the current or a hydromassage swan neck against fatigue.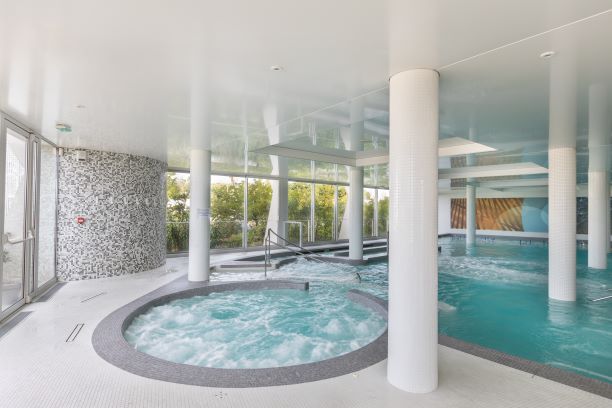 Balanced menus with Mediterranean flavors
The traditional spa offers a very wide range of Cinq Mondes treatments and hosts a glass-enclosed sauna overlooking the sea, a pearly white hammam with a starry sky, a bucket shower and an experience shower. On the top floor, the fitness room overlooks the sea and contains around twenty high-tech weight machines. Many group lessons are regularly organized there: yoga, bodysculpt, step, zumba, cross training, cx worx ...
In the evening, it's time to take care of your taste buds at the Corallines table, which serves balanced menus with Mediterranean flavors. A la carte in particular, the artichoke velouté with black truffle from the Maison de Garniac, followed by the veal tab from Aveyron with smoked paprika. Vegetarians are not forgotten and can taste seasonal tagliatelle or small Provençal stuffed dishes. At Les Corallines, there really is something for everyone.
FC

Comments