Ladies European Tour
The Ladies European Tour (YEARS IN) is the professional golfers circuit (proets) created in 1979, based in England.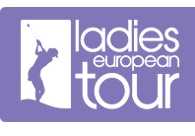 Most of the golfers who participate are European but it is possible to see golfers of non-European nationality, the largest contingent of which is Australian. It is the equivalent of the LPGA for the European continent. Its mission is to organize and set up the various tournaments of the year, these can be organized outside Europe and / or be registered with another circuit (such as the Evian Masters which is also registered on the LPGA Tour, however the LPGA does not recognize it as a grand slam tournament unlike the YEARS IN).
Trophies
Each year is sanctioned with several trophies. TheOrder of European Merit is a ranking established on the gains obtained in the season. In the past, this ranking has sometimes used a point system.
Le Player of the Year, best player of the year, is a trophy whose winner is determined by a vote of the members of the circuit. This vote must reward the most brilliant player of the season.
le Rookie of the Year, best debutante of the year rewards the best player, in the ranking of earnings, making her first season on the circuit. This trophy bore the name Bill johnson trophy from 1999 to 2003. It is now known as Ryder Cup Wales Rookie of the Year.