Posted on November 22, 2022 in Pro-Am & Scramble.
Pro-Am of the Atlas Marrakech: The 3rd edition
From January 25 to 29, 2023, the Sangha agency is organizing the 3rd edition of the Atlas Pro-Am in Marrakech, combining the pleasure of golf over 3 rounds with the exotic and sunny setting of the ocher city.
Unique panoramas, sunny climate, friendly game formula and very low prices...Welcome to Marrakech, paradise for golfers!
Everything has been thought out for the well-being of the golfer, pro and amateur, in order to offer optimum playing conditions and live a unique experience in an enchanting setting. Pros, teachers, privileged golfers, the Pro-Am of the Atlas Marrakech offers excellence both in terms of the quality of the courses offered and the services offered.
On the program, majestic landscapes under the sun, ideal temperatures allow you to play all year round the many courses suitable for all levels of play, not to mention attractive cultural and gastronomic offers as well as a small dose of change of scenery...
Sports information
Team competition of 4 players (1 professional associated with 3 amateurs)
3 rounds of competition on 3 different golf courses: Assoufid | noria | Royal Golf
Stableford Team Pro-Am
Shamble game formula for amateurs. The Pro plays his own ball
Gross premiums over net (3 gross prices - 1 net price) - Maximum index taken into account: 28,4
Approach and bridle contest
Discovery of golf courses
Assoufid
Located 10 kilometers from the city, the Golf Club of Assoufid is located between the countryside and the peaks of the Atlas. Designed by Niall Cameron, the 18-hole course is a "desert golf course" with numerous "waste areas".
Recognized as the best golf course in Africa in 2017, Assoufid has no water obstacles, just a dry wadi that weaves its way over several holes. Sufficient therefore to complicate the score of the visitors.
Noria Golf Club
With a breathtaking view of the snow-capped mountains of the Atlas, the Noria Golf will reserve you a unique experience. This 18 hole, par 72, offers three atmospheres throughout the game: orchards and lavender, desert area and oasis.
The originality of this course lies in its greens with rectangular shapes, in the basin crossing the length of the course and its minaret towers reminiscent of traditional Moroccan architecture.
Royal Golf club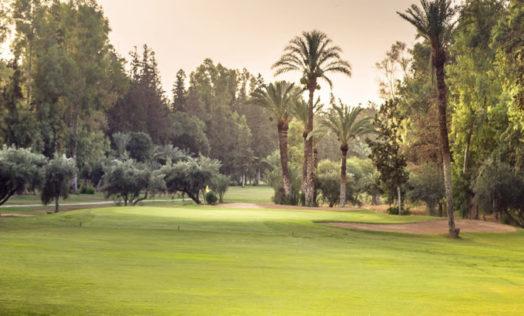 The Royal Golf Club of Marrakech is currently one of the most beautiful international historic golf courses and certainly one of the most prestigious golf courses.
This magnificent legendary course, populated by more than 15 different trees (palm trees, orange trees, eucalyptus, pines, etc.) offers an unforgettable walk that adds to the pleasure of the game.
Not far from the city center of Marrakech and ideally located facing the foot of the High Atlas, this unique 27-hole golf course consists of a historic 18-hole (par 72) course called the "Old Course", inaugurated in year 1933, as well as a 9-hole course. Marrakech Golf first
Useful information :
Services included with the golfer pack (amateur)
Airport transfers
4 nights in double occupancy
The breakfasts
Tourist taxes
Transfers provided for in the program
3 green-fees + practice package
3 gourmet breaks (on each golf course)
1 welcome cocktail
1 prize-giving dinner at Fouquet's
Welcome gifts
Pro starting bonus (750€)
Pricing
Hotel Naoura Barrière included: €1650 per amateur
Excluding accommodation: €990 per amateur
For more information on the Atlas Marrakech Pro-Am click here


Comments