Posted on January 5, 2022 in Life Style.
Vivomove® Sport, the new watch from Garmin®
Garmin® today unveils its new connected watch Vívomove® Sport with real hands and a discreet touch screen. It was designed for those looking for a trendy way to stay connected while tracking their health and fitness.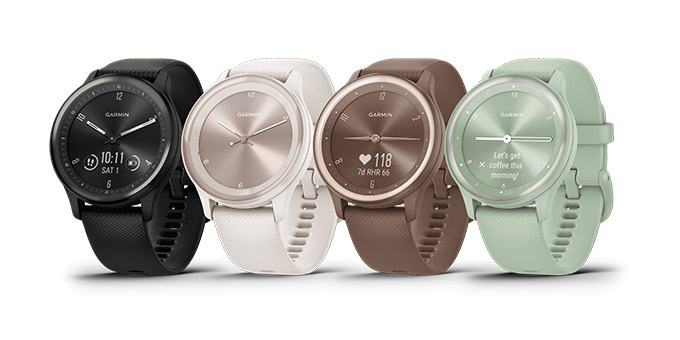 "The vívomove collection is a unique product line within the Garmin wearable family and we are delighted to complement it with Vívomove® Sport," said Susan Lyman, Garmin vice president of international marketing. "A smartwatch is only useful if you wear it. We are aware that many people still appreciate the design of a classic watch with real hands. With Vívomove® Sport, you can have the best of both worlds at an affordable price. "
Style with a touch of originality
Vívomove® Sport has the appearance of a classic watch. It is designed with real analog hands and has a hidden display that only pops up when needed. As soon as the user interacts with the touch screen, the hands shift to facilitate reading of the digital display.
Inspired by the sportswear trend, Vívomove® Sport features a silicone strap and coordinating watch face in various colors. The refined metallic details also give it an elegant and contemporary touch.
Users can also let their creativity run wild by choosing a custom color scheme from garmin.com under the Your Watch Your Way section.
health and wellbeing
Getting to know your body better has never been easier thanks to a number of innovations that Garmin has developed for general well-being.
Vívomove® Sport allows you to monitor your breathing, the oxygen saturation of the blood via the Pulse Ox1 function, stress, advanced sleep (with the different phases of sleep), recording of hydration and continuous heart rate ( with user-configurable alerts for high or low values).
The Body BatteryTM function indicates the evolution of his energy reserve throughout the day to adjust his training sessions or his diary according to his general state of form.
Female health features, including menstrual cycle tracking and pregnancy tracking, help women through every stage of their reproductive cycle by allowing them to record their symptoms in the Garmin ConnectTM app.
Breathing activities guide the user through a series of relaxing breathing exercises to improve focus and combat stress.
Stay fit and on the move
As its name suggests, the Vívomove® Sport watch is just as comfortable in the gym as in the city center. It incorporates a set of functions to encourage an active lifestyle:
Integration of sports applications for yoga, weight training, Pilatus, cardio, treadmill running, cycling and more.
Connection to the GPS of a compatible smartphone to accurately track distance and pace when walking, running and cycling outdoors.
Track activities throughout the day by counting steps, calories burned, intensity minutes and more.
Sending a message indicating the user's location to their emergency contacts3, for greater peace of mind when on the move.
To wear every day
The unique hybrid design of Vívomove® Sport allows you to stay discreetly connected when the watch is paired with a compatible smartphone.
Battery life of up to 5 days in connected watch mode and up to an additional day in watch mode (hands only).
Customizable smart notifications for incoming calls, text messages, social media updates and alerts. AndroidTM users can even reply to text messages.
Consolidate health and fitness data on the Garmin ConnectTM app to connect, compete, and share.
Unlike many connected watches, Vívomove® Sport can be used with Android and Apple® smartphones.
Price and availability
Vívomove® Sport, with a suggested retail price of € 179,99, is available today at garmin.com.
Designed indoors for life outdoors, Garmin products have revolutionized the wellness industry. Garmin is committed to developing products that help you stay active and health measurement tools that help people of all activity levels lead healthier lives. According to Garmin, every day is an opportunity to innovate and a chance to become better than yesterday.


Comments