Posted on February 25, 2022 in Life Style.
Outdoor Festival, a first on the Côte d'Azur
Test new sensations in the great outdoors from April 28 to May 1, 2022 with Outdoor Festival, the outdoor sports experience made in the Côte d'Azur.
A dream opportunity to discover, in an idyllic setting, more than 60 disciplines between two golf courses...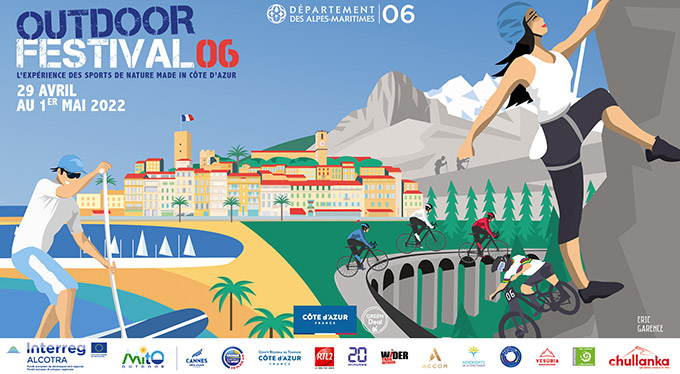 The Outdoor Festival 06, the outdoor sports experience!
The Alpes-Maritimes departmental council invites all nature sports lovers, beginners or experienced in 2022, for a brand new festival entirely dedicated to nature sports: the Outdoor Festival 06!
A unique event in the Alpes-Maritimes
3 days of activities throughout the territory.
Hundreds of free experiences
More than 50 activity and practice sites.
6 levels offered (kids, family, well-being, discovery, intense, expert).
More than 60 outdoor sports: mountain biking, slackline, trail, cycling, paddle, kayaking, climbing, canyoning, paragliding, longecôte, hiking, swimandrun, kiteboarding...
More than 150 participants expected.
Who is the festival for?
Authentic scholar, romantic contemplative, enthusiastic in a tribe, urban detox… the OutdoorFestival 06 is for everyone.
The 4 pillars of the festival
Outdoor experience: hundreds of activities to try out for all levels (initiation, discovery, supervised outings, cross-border tours, product tests, workshops, etc.).
Outdoor event: a calendar of cultural events for another vision of the outdoors: workshops, exhibitions, conferences, screenings, shows...
Outdoor competition: official international competitions included in the program (Cannes international Triathlon, Col de Vence pedestrian ascent, etc.)
Outdoor camp: a village in Cannes, capital of outdoor sports, with numerous exhibitors from equipment manufacturers and outdoor professionals, product tests, shows/demonstrations, outdoor screenings, etc.
To find more information: click here.


Comments