Posted on June 29, 2022 in Arts & culture, Shopping.
THE ALBATROS – Journey of life by Jean-Christophe BUCHOT
Find the book "L'Albatros - Parcours de vie" at the editions for an initiatory journey around the passion of the golfer and his personal development. Often a sport that has become a passion, golf has revealed itself to many as a love story, Pascal Grizot, president of the French Golf Federation, shares his feelings in the preface to this book.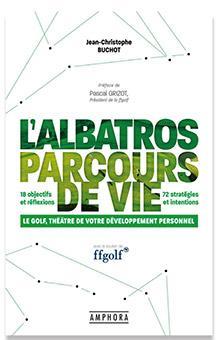 "A game of golf is a summary of life", according to Jean-Christophe Buchot, the author of this book.
Coach, strategy consultant and golf enthusiast, he reconciled his areas of activity in a book combining personal development and golf.
It therefore starts from the mythical route of the Albatross to address various themes related to personal development and management. Each space of the course constitutes a pretext to evoke choices and stakes of the life.
The author also went to meet personalities (pro golf players, coaches, presidents and directors of the federation, businessmen, doctors, etc.) who share their experiences and their vision on complementary themes for a very nice presentation. in perspective. 18 holes, 72 shots and as many essential subjects tackled in a lively way and in direct correspondence with the challenges of life.
Word about the author, Jean-Christophe Buchot
Multimedia journalist, coach and strategy consultant, but above all passionate about golf, Jean-Christophe Buchot has had the opportunity to bring together in this book his various skills in order to explore the links that exist between the game of golf and the fields of management. and personal development.
This book is also accompanied by a preface written by the president of the French Golf Federation, Pascal Grizot. Here is an excerpt:
"Golf, the sport of a lifetime! It's so true, but also so resonated by all the proselytes of golf that it is difficult to sort through all these advocated values. But it is also, and above all, a great school of life, where perseverance, patience, listening, hard work, among other things, are necessary to perform. This is, moreover, the whole meaning of the federal campaign "Golf is for life. »
The book L'ALBATROS – Parcours de vie, by JCh Buchot, coach in strategy and mental preparation, with the support of ffgolf.
More information on : albatros-coaching.fr


Comments