Posted on March 10, 2021 in Health & Beauty.
Fitness and health sport fair from September 17 to 19, 2021
Sport-health is one of the major themes for Mandelieu-La Napoule, which has been committed to the "Mandelieu Sport by Nature" concept for several years. Indeed, many urban developments have been installed and each new project takes into account the territory's capacity to increase its outdoor playground for athletes.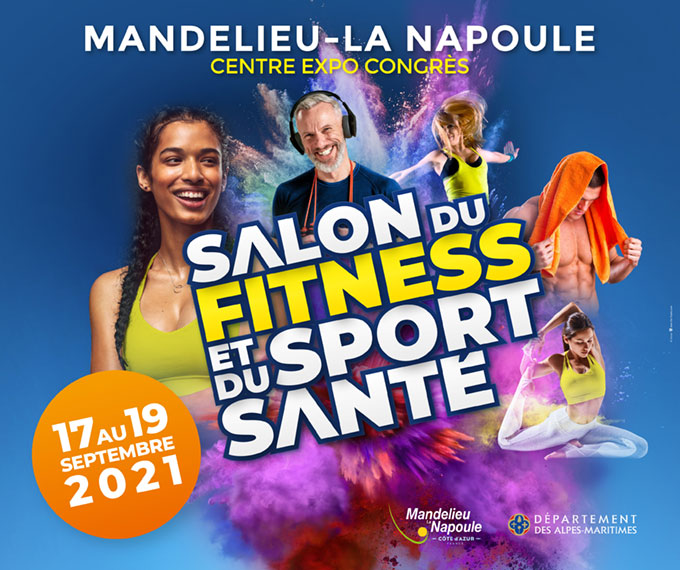 The events calendar will be particularly dense between September and December 2021 in Mandelieu-La Napoule: cycling, running, triathlon will be there.
The Mandelieu-La Napoule Tourist and Convention Office, also producer of events for the general public such as La Napoule Boat Show, Motor Show ou Flavors & Terroirs Fair, is launching a new challenge in 2021 and will organize everything 1er FITNESS & SPORT-HEALTH FAIR from September 17 to 19, 2021.
So during 3 days, the program will be intense! In the Congress Expo Center : group fitness classes provided by the best coaches of the moment, designed by Fabienne Camara (muscle strengthening, bodybuilding, aquagym, yoga, zumba…), outdoor crossfit, street work-out… Sessions suitable for families will also be offered.
Conferences and a Fair which will bring together some 60 exhibitors, will be backed up by the group lesson program: sports equipment, food supplements, connected objects, makeovers, food rebalancing, etc.
Sport outside the walls: an outdoor program will be concocted in collaboration with the Sports Department of Mandelieu-La Napoule mainly on the beach and the edges of Siagne: aquagym, outdoor fitness, Urban training, crossfit ...
"This 1er Salon du Fitness et du sport-santé corresponds to a resolutely modern trend which highlights the pleasure of sharing collective energy and the widespread use of digitalization which has absolutely not altered the pleasure of sport. This discipline - Fitness - carried by strong sports personalities, and now essential influencers of all nationalities, shows the universality of sport and the ability to share in joyful and technical sequences, whether we are looking for intense physical challenges or gentle fitness.

We are delighted to position Mandelieu-La Napoule on these disciplines which offer us an additional opportunity to demonstrate that our Municipality is a great playground for sports practice and to demonstrate all the energy of our destination to combine sport and well-being for all generations, in a context where health has been at the heart of our daily lives for several months. " Sébastien LEROY, President of the Tourist and Congress Office and Mayor of Mandelieu-La Napoule.
More info - Some data on the world of fitness -
Source: Deloitte and EuropeActive study on health and fitness in Europe. April 2019.
Fitness in France has nearly 6 million members and generates 2.5 billion euros in turnover.
In terms of membership, France is the third largest European market (3 million members), behind Germany (5,96 million) and the United Kingdom (11,09 million).
Useful information
Mandelieu-La Napoule
1er Fitness and Health Sport Fair
From 17 to 19 September 2021
Congress Expo Center
Public hours: Friday and Saturday: 10 a.m. to 21 p.m.
Sunday: 10 a.m. to 19 p.m.
Web: www.ot-mandelieu.fr
General public prices:
Entrance to the Salon: 5 euros
Group lessons: 10 euros
Two evenings: Zumba Night Fever - Fitness Night Show - 20 euros per evening.


Comments