Posted on August 10, 2022 in Equipment.
GARMIN ENDURO 2: The watch with 150 hours of battery life
Designed more specifically for ultra-endurance, the Garmin Enduro 2 achieves autonomy records and, thanks to its solar glass, allows its use to be extended for up to 46 days in connected watch mode and up to 150 hours in GPS1 mode.

Crafted with premium materials for ultimate durability and comfort, Enduro 2 features a lightweight and sophisticated titanium bezel and case back, 1,4-inch Power Sapphire™ crystal, Ultrafit nylon strap for a secure fit and comfortable, as well as a new touch interface in addition to button controls. During the day, Enduro 2 captures the sun's energy to offer an autonomy of up to 150 hours in GPS mode and up to 46 days in connected watch mode. Even at night, endurance athletes can keep training with this new adjustable LED flashlight, Garmin's most powerful yet. It's twice as powerful as the one on the fēnix 7X and offers an optional strobe mode to match the pace of the runner or a "red safety" light mode that allows users to see and be seen.
Functions for ultra-endurance
Thanks to the improved solar glass, the battery lasts up to 57% longer than those of previous models. Built to last on ultra-endurance races, Enduro 2 incorporates navigation features from Garmin, built-in TopoActive and ski maps, plus multi-band GNSS systems with SatIQ™ technology that selects the fastest GPS mode. adapted to the environment, for more autonomy and higher positioning accuracy. Built-in Wi-Fi® connectivity makes it easy to download software and update maps without using a computer.
New tools for training and racing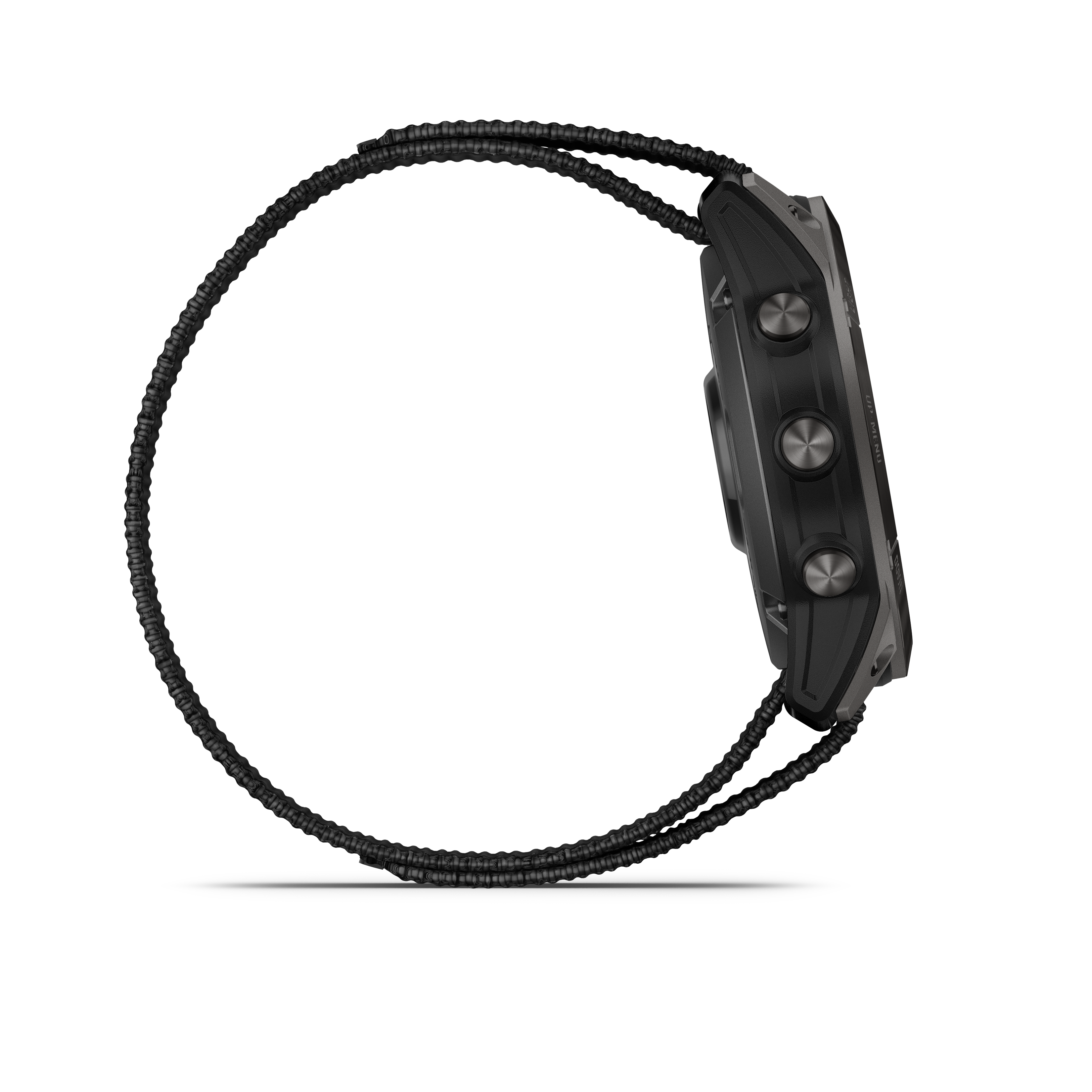 NextFork™ maps show the distance to the next intersection as well as the name of the trail ahead.
Grade-adjusted speed allows runners to regulate their speed over varied terrain by displaying their equivalent running pace on flat ground, allowing them to maintain endurance throughout a run.
The visual run predictor provides a pace estimate for upcoming runs based on history and overall fitness level. This data shows the impact of training over time and helps optimize performance.
Automatic rest timer records breaks during ultra runs. This makes it possible to record and differentiate the time spent in the race and at the refueling stations.
New "Adventure Race" activity profile approved by the ARWS, it allows you to track and record biometric data, display one or more stopwatches and use other integrated functions such as the altimeter and the compass, while respecting the rules of this sport.
Wellness Tracking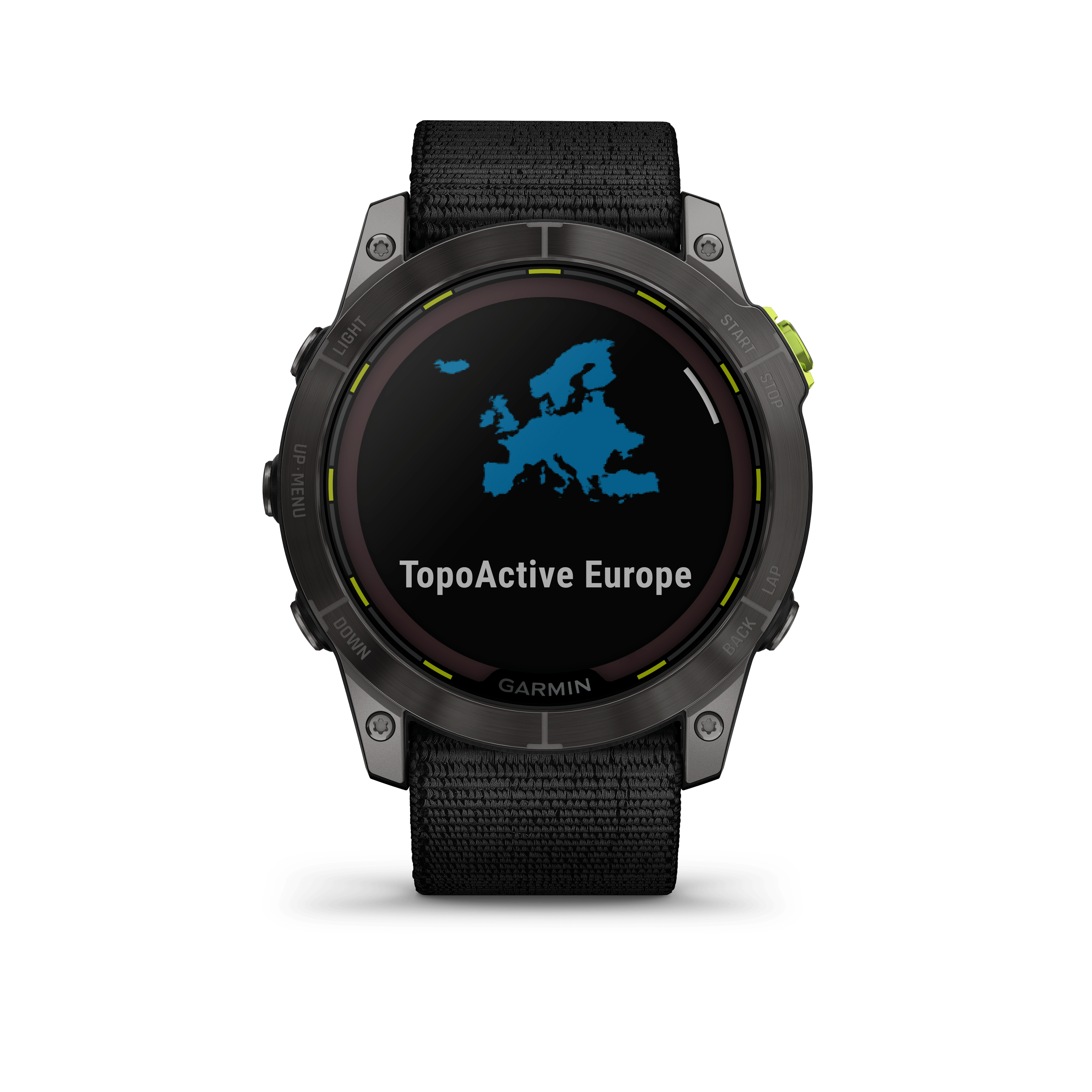 The new Health SnapshotTM feature records and reports key stats including heart rate, heart rate variability, blood oxygen levels with Pulse Ox, respiration and stress2. Advanced features include Body Battery™, Fitness Age and sleep tracking, plus a variety of sports apps and built-in GPS for mountain biking, swimming, hiking, running, golfing, yoga and surfing. Using collected health data, Enduro 2 offers features such as recovery tips and daily training sessions to provide riders with the tools to help them perform at their best.
Stay connected
Between activities, runners can take advantage of Garmin Pay™3 contactless payments and receive notifications for calls, texts, calendar reminders, social media updates and more when the watch is paired with an AndroidTM smartphone or Apple® compatible. Finally, Enduro 2 can send a message with the rider's live location to their contacts, manually or automatically during certain activities with, if necessary, integrated automatic incident detection4.
Garmin Enduro 2 price and availability
Enduro 2 is available now at a suggested retail price of €1.
For more information, visit the website Garmin.com.
Find our latest article on Garmin watches below:


Comments