Posted on August 31, 2022 in Pro-Am & Scramble by Swing Féminin.
Costa Navarino and José María Olazábal launch a new pro-am
Costa Navarino, the essential eco-sustainable golf destination in the Mediterranean, has teamed up with two-time Masters winner, José María Olazábal, to launch the "Olazábal and Friends Charity Pro-Am" this Autumn, from 24 to November 27, 2022.
The event will take place from November 24 to 27 in Costa Navarino, the new European golf destination located in Greece in the South West of the Peloponnese This inauguration will offer the exclusive opportunity to join Olazábal and his professional friends to live a unique experience on the two new courses of Navarino Hills, Costa Navarino, opened since February, and designed by the legendary Spanish champion.
With a maximum of 18 teams, the event will consist of a practice round and two separate 18-hole competitions on the premier International Olympic Academy Golf Course and the Hills Course. Each team will consist of one professional and three amateurs
Charity events, an awards luncheon and The Golf Clinic are also scheduled. All proceeds from the event will be donated to Sport Mundi (www.sportmundi.es), a Spanish non-profit organization chaired by José María Olazábal, which supports children in need. The tournament will also support the "Clean Messinia" initiative, led by the Captain Vassilis & Carmen Constantakopoulos Foundation and Costa Navarino, which aims to support and engage local communities in more sustainable waste management.
Olazábal said: "I am proud to be able to organize our new charity Pro-Am in Costa Navarino. My team and I have enjoyed a wonderful relationship with Costa Navarino over the past few years when we built the two new golf courses at Navarino Hills. I am thrilled to continue being part of Costa Navarino history with our new event. Our goal is clear, we want to give back and raise as much money as possible for underprivileged children".
Set on 125 hectares overlooking historic Navarino Bay and the Ionian Sea, the International Olympic Academy Golf Course and Hills Course, measuring 6m and 366m respectively, opened at the start of the 6 golf season They enjoy a unique location with majestic views of the Mediterranean, the mountain and the valley. The combination of the highest quality standards and the breathtaking landscapes guarantee a total change of scenery, an unforgettable golfing experience.
They thus ideally complement the two golf courses of Costa Navarino, The Dunes Course and The Bay Course. Players of all skill levels can now take on the challenge of four 18-hole courses within a 13km radius.
Nuno Sepulveda, Managing Director of Costa Navarino Golf, said: "Costa Navarino is delighted to partner with one of the most famous and respected names in world golf for such an exciting event. José Maria and his team have created two unique golf courses in Navarino Hills, and I can't imagine a better conclusion to what has been a landmark year for Costa Navarino".
About us

José

María

Olazabal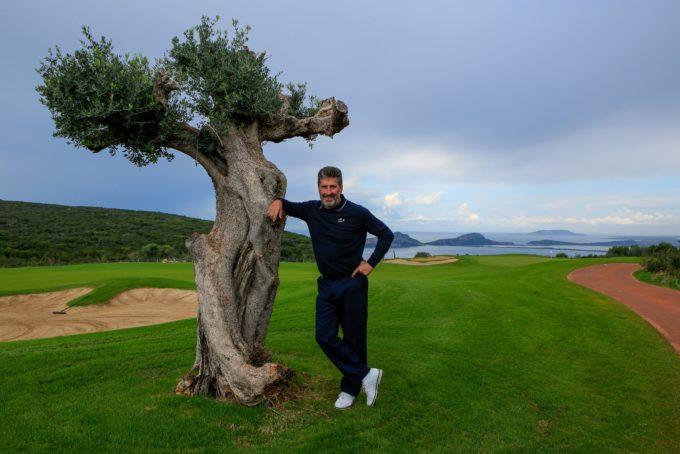 José María Olazábal is considered one of the best European golfers of all time. His victories as a professional golfer include two Masters titles (1994 and 1999), 33 professional tournament wins worldwide and legendary performances in the Ryder Cup, both as a player and as the winning captain of the spectacular 2012 Ryder Cup known as the "Miracle in Medinah". He is a member of the World Golf Hall of Fame and currently plays on the Champions Tour. Besides his playing career, José María has grown Olazabal Design into a highly respected international golf course design firm, which currently has 23 courses open, including Costa Navarino's two brand new courses, the International Olympic Academy Golf Course and the Hills Course, which will be at the heart of the first Olazábal & Friends Charity ProAm next November.
For more information on the Olazábal and Friends Charity Pro-Am and to book, click here: www.olazabalandfriends.com
To find out more about Costa Navarino: click here
To read our last article on Costa Navarino:
Costa Navarino, the Greek golfing destination par excellence


Comments