Posted on January 11, 2023 in Shopping.
Cobra Golf innovates with the range of AEROJET drivers and irons
COBRA Golf, this week unveils new AEROJET drivers that build on the acclaimed designs and performance of the previous LTDx range and launches a never-before-seen aerodynamic shape in three versions – AEROJET LS, AEROJET STANDARD and AEROJET MAX offering a head speed of ever faster club and ball.
Every driver and fairway wood features PWR-BRIDGE weighting technology, Cobra's first ever sprung weight design. The new technology uses a raised internal bridge structure above the sole to achieve a low, forward center of gravity.
The new aerodynamic head shape is the result of years of research and testing with some of the fastest swings on the planet. Compared to a traditional driver, AEROJET LS contributes to a significant reduction in drag during the swing for increased clubhead speed and superior aerodynamic performance. When tested and compared by robots to LTDx, the AEROJET LS driver produced up to +1,5 mph of clubhead speed, the fastest and most aerodynamic COBRA driver to date.
The 3 AEROJET drivers
"The aerodynamics of the new AEROJET driver family are the most advanced to date," said Mike Yagley, Vice President of COBRA Golf Innovation. «We continue to research and improve to give players of all levels ever more maximum clubhead speed, faceoff and distance."
The AEROJET MAX driver combines aerodynamics and maximum stability with an optional draw trajectory using adjustable weights in the rear and heel of the sole. It is also available for women with a satin matte black rim and a shiny raw carbon fiber crown. The sole features a raw carbon fiber gloss accented with silver peripheral paint with cool blue accents.
AEROJET LS offers an aggressive aerodynamic shape and a slim profile at address. Designed for experienced players who demand low faceoff and spin for maximum control. For a personalized adjustment, 2 weights of 12g and 3g in the sole are positioned forward for a neutral or fade trajectory.
AEROJET is designed for the masses and features an aerodynamic shape for faster club speed with weight at the rear of the sole providing a neutral, forgiving trajectory and speed for maximum distance.
The drivers are available in a black colorway with a satin matte black perimeter and a glossy raw carbon fiber crown. The sole features a shiny raw carbon fiber effect accented with white peripheral paint and blue and red accents.
Recommended retail price: €579
Juniors Edition (479€) in 39″ (8-9 years old) with a 46g COBRA Junior flex shaft, and in 41″ (10-11 years old) or 43″ (12-14 years old) with a 60.5g COBRA Junior shaft A free shaft upgrade is available for purchase as juniors progress in their game.
FAIRWAY WOODS and AEROJET HYBRIDS
The fairway woods ($349) use the same PWR-BRIDGE and PWRSHELL weighting with HOT FACE and carbon fiber crown technologies as the drivers. Also available in 3 models, they are designed to adapt to the greatest number of levels of play:
AEROJET LS Fairway Wood - low spin designed for players with faster swing speeds - forward weighted to work lower trajectories.
AEROJET STANDARD Fairway Wood – for players looking for easy faceoff, long distance and great forgiveness.
AEROJET MAX Fairway Wood – The most forgiving that combines the fast and forgiving performance of the standard AEROJET model with a Draw faceoff.
The AEROJET Hybrids (€299) – new shape with a lower heel, more rounded crown and slightly raised tail, same PWR-BRIDGE weight and same PWRSHELL HOT FACE technology as drivers and woods. AEROJET ONE Length Hybrid (37,25″) complements the ONE Length irons. It is also favored by many non-ONE Length players for its face-off performance and forgiveness.
AEROJET Variable and ONE Length IRONS
The irons feature a sleek new design with sharpened upper vision and several impressive distance-enhancing technologies, including the new PWR-BRIDGE weighting design that advances the PWR-COR LTDx, optimizing weight distribution and flexibility for maximum power.
The AEROJET Variable Length irons are available in 5-PW (right/left-handed, regular steel – €899) as well as in the graphite series of 5-PW (right-handed graphite Regular and Lite – €999). Each steel option comes standard with KBS Tour Lite 100 shaft and Lamkin Crossline grips. The graphite offer is a KBS PGI shaft (75 – regular flex – 65 – Lite flex, 55 in women's flex).
An AEROJET Femme offer comes in a silver and ice blue color and is also available in a graphite set (RH/LH – €999), from 6PW, SW.
The COBRA AEROJET ONE Length irons, all fitted with a single shaft based on the 7 iron at 37,25" are available on order of the 5-PW in graphite with KBS PGI shaft (75 – regular; 65 – Lite). (right/left handed – Regular, Lite – €999) and steel (right/left handed – Stiff & Regular – €899). Each steel option comes standard with KBS Tour Lite 100 shaft and Lamkin Crossline grips in red and blue.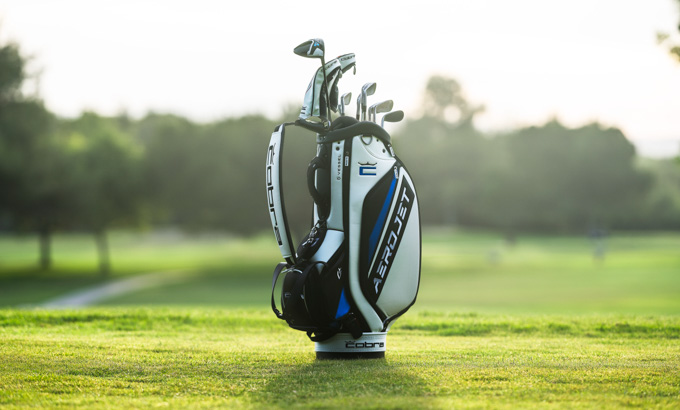 All AEROJET products will be available at retail and online on February 10, 2023. For more information, click here


Comments