Posted on January 20, 2022 in News.
Aréas Assurances and Aiac partners of the FFGolf
Aréas Assurances, the 7th network of general agents in France, becomes official supplier of the French Golf Federation for the next three years. Aiac becomes official broker.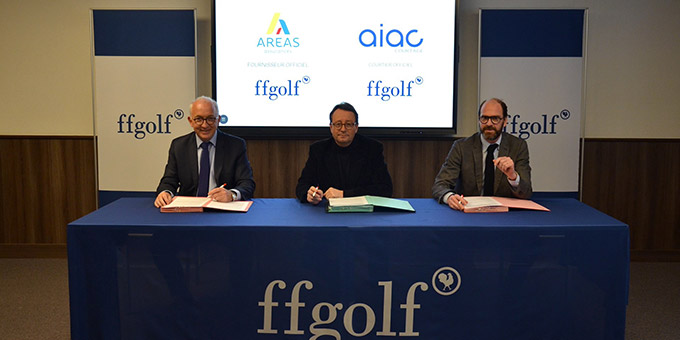 Aréas Assurances, new insurer of the ffgolf, and Aiac, new broker, combine their expertise to support, from 2022 and for the next three years, all golfers who are members of the French Golf Federation in their practice through liability coverage. civil but also in individual accident. Enough to allow all licensed players to enjoy their passion with complete peace of mind.
At the same time and within the framework of the partnership, Aréas Assurances will offer all new customers, licensees of the French Golf Federation, a welcome offer specially designed for them. It will also provide its customers with effective services thanks to a relationship of trust and proximity.
Le Golf National will also be the scene of public relations operations initiated by Aréas Assurances thanks to partnership agreements with the French Golf Federation. In addition to the privatization of the Albatros course, the Insurer will have green fees which it can pass on to its customers.
Aréas Assurances will also strengthen its visibility with golfers thanks to the deployment of a major media plan for the digital media of the French Golf Federation.
They said
Pascal Grizot, President of the French Golf Federation:
"We are delighted to welcome the Areas Assurances/Aiac duo as the Federation's official insurer for the next few years. This is the certainty for licensees to benefit from optimal coverage, and for the federation to have a partner of choice to support our projects. »
Sylvain Mortera, Managing Director of the Aréas Assurances group:
"The Aréas Assurances group is delighted with the choice of ffgolf, which has entrusted it with the insurance offered under the annual license for the next three years. Also representing the 7th network of general agents in France, with many golfers, we are also enthusiastic to mobilize with ffgolf as an "Official Supplier" and "Insurance Partner". »
Christofer Dahlström, Managing Director of AIAC:
"Golf is one of the most exciting games I know. It is a particularly demanding sport in many aspects. As an insurance broker specializing in sports risks, AIAC is therefore particularly proud to serve, from 2022, one of the most important sports federations in France: the ffgolf. »
About the French Golf Federation
Founded in 1912 under the name of Union des golfs de France, the French Golf Federation is an association under the 1901 law declared of public utility on April 9, 1975 and approved by the Ministry of Sports. It now lists more than 436
licensees with a record reached for the year 2021. For the record, it counted only 20 in 000, 1970 in 38, 783 in 1980 and 181 in 147. The progression of Golf is by far one of the of the most impressive in French sport over the past 1990 years and continues to attract new enthusiasts.
About Areas Insurance
The Aréas Assurances Group, whose oldest mutual insurance company was founded in 1825, manages 2,4 billion euros in assets. 7th network of general agents with 500 agencies in France, Aréas advises and supports individuals, professionals and companies in financial protection as well as in the protection of property and people. Aréas offers many solutions in auto, home, complementary health, multi-risk professional or business insurance and deploys a wealth advice approach in savings and multi-support retirement as well as in real estate investment.
About Aiac
Aiac is a brokerage firm established for more than a century on the French market. Its founding values, expertise, people and ethics, allow it to be referenced by all insurers and to offer personalized solutions, adapted to the needs of all. Parisian insurance broker, Aiac develops its expertise around 5 poles (Real estate: co-ownership trustees. IARD company: property and liability insurance. Collective company: provident, health and retirement insurance. Construction: damage-work and ten-year liability. Sport : insurance of sports federations).


Comments